UPDATE (Jan. 26) Due to the increase in corona infections, this workshop is postponed. We do not have a date to reschedule yet but we hope it may be possible to hold it in April or May. If you haven't already registered, or put your name on the wait list, you can still give me your contact information here: https://forms.gle/nLDaGt3ii1EXSZEU6 I promise to contact everyone when I know more.
Sign ups now open! 17,000 yen for a fully guided tour (in English) including lunch, all materials and much more. Read on for full details and lots of photos.
Love Japanese fabrics? Enjoy needlework and crafts? Just want to have a nice outing with nice people and do something creative? If so, please join me Sunday, Feb. 13, 2022 on Mt. Oyama (Kanagawa Prefecture) for a fully guided tour with special access and a needlework workshop with Mutsuko Yawatagaki, one of Japan's most famous quilters and founder of the Izumo Museum of Quilt Art. If you've been following what I've been up to the last year or so, you'll know she designed the Oyama pilgrimage quilt seen in the photo below.
The quilt will be on display halfway up the mountain at the beautiful Oyama Afuri Shrine, so from the station we'll there together, catching a city bus, walking the Koma Sando shopping street and riding the stylish green cable car for the last part of the climb.
Once there, we'll look at the quilt together, guided by Ms. Yawatagaki's daughter, who is also the director of the Izumo Museum of Quilt Art. Then we'll be invited inside the inner sanctums of the shrine to learn about the Oyama pilgrimage traditions from Shinto priest Kunihiko Meguro. (Eagle-eyed readers will recognize him as the priest who appeared in my film, Horimono: Japan's Tattoo Pilgrimage, which was filmed inside the shrine exactly where we'll be.) He'll conduct a seishiki sanpai Shinto ceremony for us, ensuring we have the gods' blessings for the rest of our day and success in our craft project!
After the ceremony, we'll nip next door to Teahouse Sekison, the shrine's lovely cafe designed by architect Yasushi Horibe, for a hot tea or coffee. If the skies are clear, we'll have a fabulous view from the outdoor space; the interior, with its beautiful local wood, is always a pleasure.
If you want to try their famous matcha tiramisu (500 yen, payable at the cafe), we'll pre-order so you're sure to get one.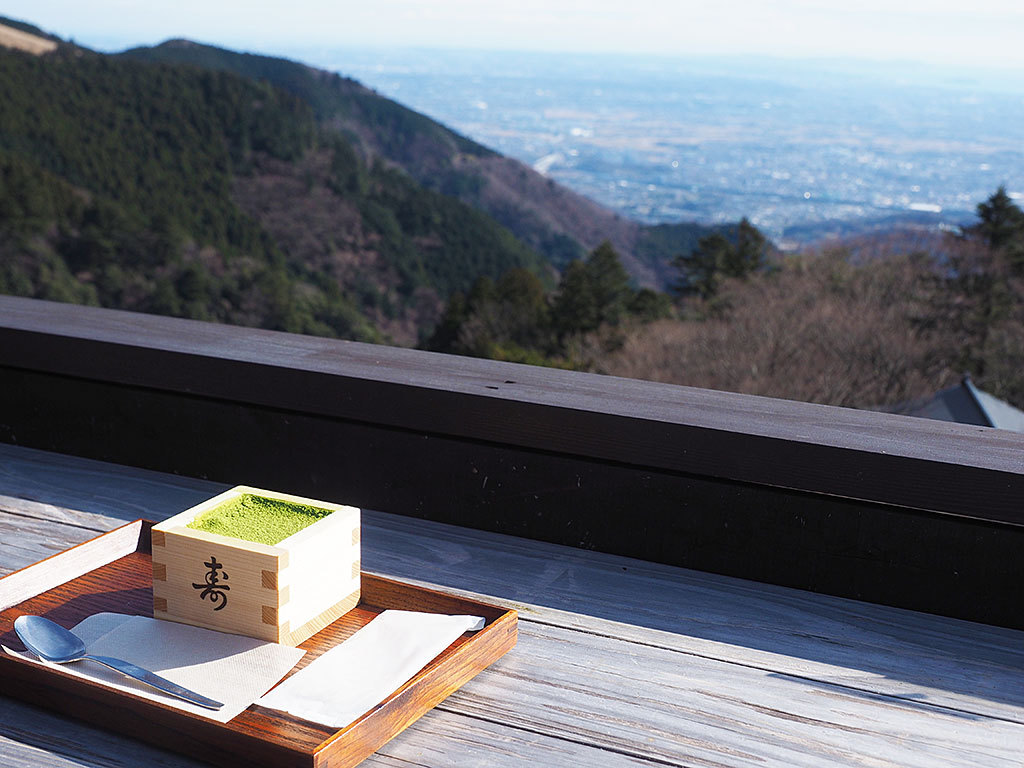 After a quick look around the shrine, we'll head back down on the cable car and go to the Meguro family's ryokan, which is a traditional shukubo serving pilgrims. There, we'll enjoy a vegan Japanese lunch highlighting the tofu that Oyama is famous for, and then settle in for the highlight of the day — the needlecraft workshop with Ms. Yawatagaki!
For the workshop, we'll provide you with everything you need to make a 95 x 40 cm (37 x 15 inch) tapestry that can be hung on the wall like a hanging scroll or used flat as a table runner. No quilting experience is necessary — if you can do a simple stitch by hand with needle and thread, you can do this! The set is designed so you can probably finish it at the workshop (about two hours), but if you're worried about being slow, don't! You'll have the know-how and all materials to complete it at home.
The fabrics we'll use are new and are reproductions of designs in kimono fabric from the Edo to Taisho eras, produced by Ms. Yawatagaki's museum. For the central image, you can make your own choice of several designs. She may have a few others on offer at the workshop, but if you like, you can reserve one of the designs below when you sign up. (It's ok to change to a different design on the day of the workshop, if you see something you like better among any of the designs still available.)
The cost for this tour is 17,000 yen, which includes lunch, a hot drink during our morning break, a donation to the shrine and all the materials for the tapestry. (A small discount has been applied thanks to a grant from the Toshiba International Foundation, which allows us to defray some of the costs without passing them on to you.) For convenience, and a little savings, we suggest that all participants buy the Tanzawa-Oyama Free Pass (2,520 yen from Shinjuku, less if you're boarding the Odakyu Line closer to Isehara where we're meeting. The pass covers your round-trip train ride to and from Isehara + all the bus and cable care rides we'll take together. And it's good for two-days in case you come early/or stay after the tour. For information on the Free Pass, see my detailed instructions on how to buy it.
I'll send instructions for meeting closer to the time to those who sign up, but plan on meeting at Isehara station on the Odakyu Odawara Line at 8:55 am. (There's a fast, direct train from Shinjuku departing at 7:50 and arriving 8:53). We'll return to the station by 4 or 4:30. Trains are frequent so you can be home for dinner. If you want to do an overnight in Oyama, either before or after the workshop, for sightseeing and/or hiking, I'll help you with arrangements. One option is to stay on at the inn where we'll be doing the workshop for 10,000 yen per person, including dinner and breakfast the next morning. There are also business hotels near the station.
Regarding payment and cancellation: please pay in advance by Feb. 1 via bank transfer (furikomi) or PayPal. Once you've paid, you can cancel anytime for a refund (less a 1,000 yen service charge) if you find someone to take your place. Otherwise, for cancellations up to two days before (by 9:00 am on Feb. 11), we'll refund 10,000 yen.